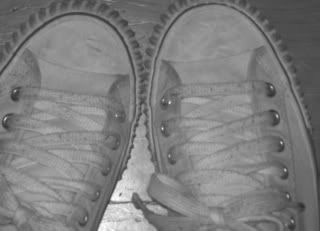 ok, ok... so i missed my once a week deadline. close enough! these PF flyers and me - we've been busy getting creative. i can barely finish one project before the wheels start turning again. i love these shoes. they've made me and my feets such happy lil' things. they remind me of janet and aberdeen. a jack purcell photo shoot on the beach and corderoy jackets. don't tell my PF Flyers but I've been wearing steen's plaid boots because of the snow and they are so magical! (shhhh!)
my first project on the new machine was a wee little bunny for pretzel. it was a late nighter...stayed up cutting and sewing and stuffing. floppy ears and funky fabric. perfect for the little pretty.
then i got to work this weekend on cam's superman suit. i'm sooo proud of it. it got wrapped and packed up in such a hurry that i didn't get to take any pictures but hopefully he'll be flying it over with his super powers real soon. luc and i had fun wrapping up the goods for his package.
my heart is a bit sad to be missing out on the birthday festivities this year. my cam-reno friend. what a party it's going to be! ever seen a guitar playin' superman? you will soon. funny that amy is bored over there tonight cause i'm a bit homesick for the nothing-ness that is that place. i'd love to sit on their comfy red couch, eat chips and "haltsa", tell stories about old ladies and sing "lonely tonight" with amy ray and emily.
tomorrow is sunday. sunday mornings are my favorites. andrey scoops lucas up at the sound of his first peep and off to starbucks they go. i get to sleeeeep in! they come home an hour or so later smelling all yummy like americanos and hot chocolate. such sweet boys. andrey started a big 'ol house in orem which is exciting. a nice change from the cracker jacks he was throwing up in washington. a chance to practice his real talent. i love him. such a hard worker. it's freezing outside and he wakes up every morning without even hitting snooze to tackle the cold. he has the coolest hard working hands ever. and winter whiskers right now. such a love. such a love.
i finally got to sit down the other night with luc in my mom's office and soak in the latest dixie chicks album. it was produced by rick rubin which is probably why it was so delicious. i listened to every track and read all the words. a sweet new lullabye and alot of speaking out. two things i'll definitely be teaching my little boy.
this blog thing has already been good to me. it found me my favorite angie-girl and i learned of her good news. hopefully there are some more of my long lost favorites out there. find me! good night my loves... lin